linking INTEGRITY
Integrity - use of values or principles to guide action in the situation at hand.

Below are links and discussion related to the values of freedom, hope, trust, privacy, responsibility, safety, and well-being, within business and government situations arising in the areas of security, privacy, technology, corporate governance, sustainability, and CSR.
Warming signs: thinner glaciers and saltier oceans, 7.10.04
CSMonitor
Earth has a message for global warming skeptics: Its effects are starting to appear where it really counts. Antarctic glaciers are melting faster than scientists had thought. The tropical 'firebox' that drives the atmosphere's weather machine is running hotter. These two developments could significantly change our planet's weather patterns.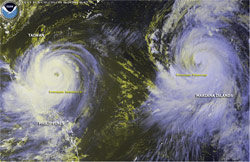 Links >>>>

Woods Hole Oceanographic Institution: Abrupt Climate Change - Bigger Hurricanes: A Consequence of Climate Change?

National Snow and Ice Data Center: All Cracked Up from the Heat? Major hunk of an Antarctic ice shelf shatters and drifts away

NASA: Scientists Report Increased Thinning of West Antarctic Glaciers





"We shall need compromises in the days ahead, to be sure. But these will be, or should be, compromises of issues, not principles. We can compromise our political positions, but not ourselves. We can resolve the clash of interests without conceding our ideals. And even the necessity for the right kind of compromise does not eliminate the need for those idealists and reformers who keep our compromises moving ahead, who prevent all political situations from meeting the description supplied by Shaw: "smirched with compromise, rotted with opportunism, mildewed by expedience, stretched out of shape with wirepulling and putrefied with permeation.
Compromise need not mean cowardice. .."

John Fitzgerald Kennedy, "Profiles in Courage"
Archives
07.03 08.03 09.03 10.03 11.03 12.03 01.04 02.04 03.04 04.04 05.04 06.04 07.04 08.04 09.04 10.04 11.04 12.04 01.05 02.05 03.05 04.05 05.05 06.05 07.05 08.05 09.05 10.05 11.05 12.05 01.06 02.06 03.06 04.06 05.06 06.06 08.06 09.06 10.06 11.06 01.07 02.07 03.07 04.07 07.07 08.07 09.07 10.07 05.08 06.08